If you are lucky enough to have an easy accessible garage or other secure place at home, skip this part. If your options are limited read on!
The limitations are usually down to either size, access or both. Two wheelers are narrower (65 and 75 cm) than cargo trikes, however their turning range is wider. The width of cargo trikes generally ranges from 85 to 86 cm or wider. So, think carefully and get the measuring tape out if necessary.
Where will it be kept when not in use?
Think of access (dropped kerbs? tight gate? general access?)
Think of how easy it will be to get the cargobike in and out of its storage place daily
Can you lock it safely?
What types of locks?
Carrying a cargo bike over a set of stairs is not fun and is simply impossible for most. Going up a kerb to access a back garden however should be fine for most. The trick is to be able to pull it up as it is much easier than pushing it.
On Street Parking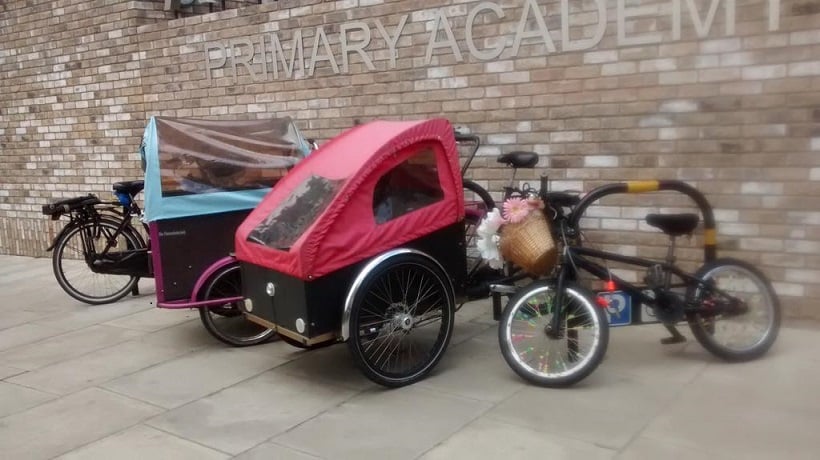 Over half of our customers in London have no other options than to park outside their home. You should not be put off by the potential risks. It's perfectly legal for a cargo bikes to park on the pavement. Just be mindful not to create an obstruction and ensure you are leaving enough space for wheelchair users and larger prams to use the pavement comfortably and safely.
Invest in a good lock, ideally two, in addition to the frame lock that usually comes as standard with the cargo bike. Always lock the frame of your bike (not a wheel or rack) to a solid or fixed object such as lamp post (taller than 2m) or railing. If you want to avoid carrying a heavy lock at all times, consider buying two. Leave the heavy one for overnight parking at your regular parking spot and the lighter one for quick stops when out and about. We recommend 90cm or longer for cargo bikes. D or U locks offer better safety-weight-cost ratio. Always choose a public spot, lit up over night or near your house where you can see it if possible. Read more about locking your cargo bike and what locks to get.
Cargo bike are designed to be outside. However, overall covers can also be purchased should you want that extra protection.
You could also contact your local council and ask if they could provide you with on street parking facility. There are suppliers who provide councils with solutions, usually for regular cycles, but just like car owners have the possibility to park their cars near their home, you should ask too. Your cargo bike is your family vehicle. Councils and suppliers are likely to adapt to demand so, you have the power to make these changes happen.